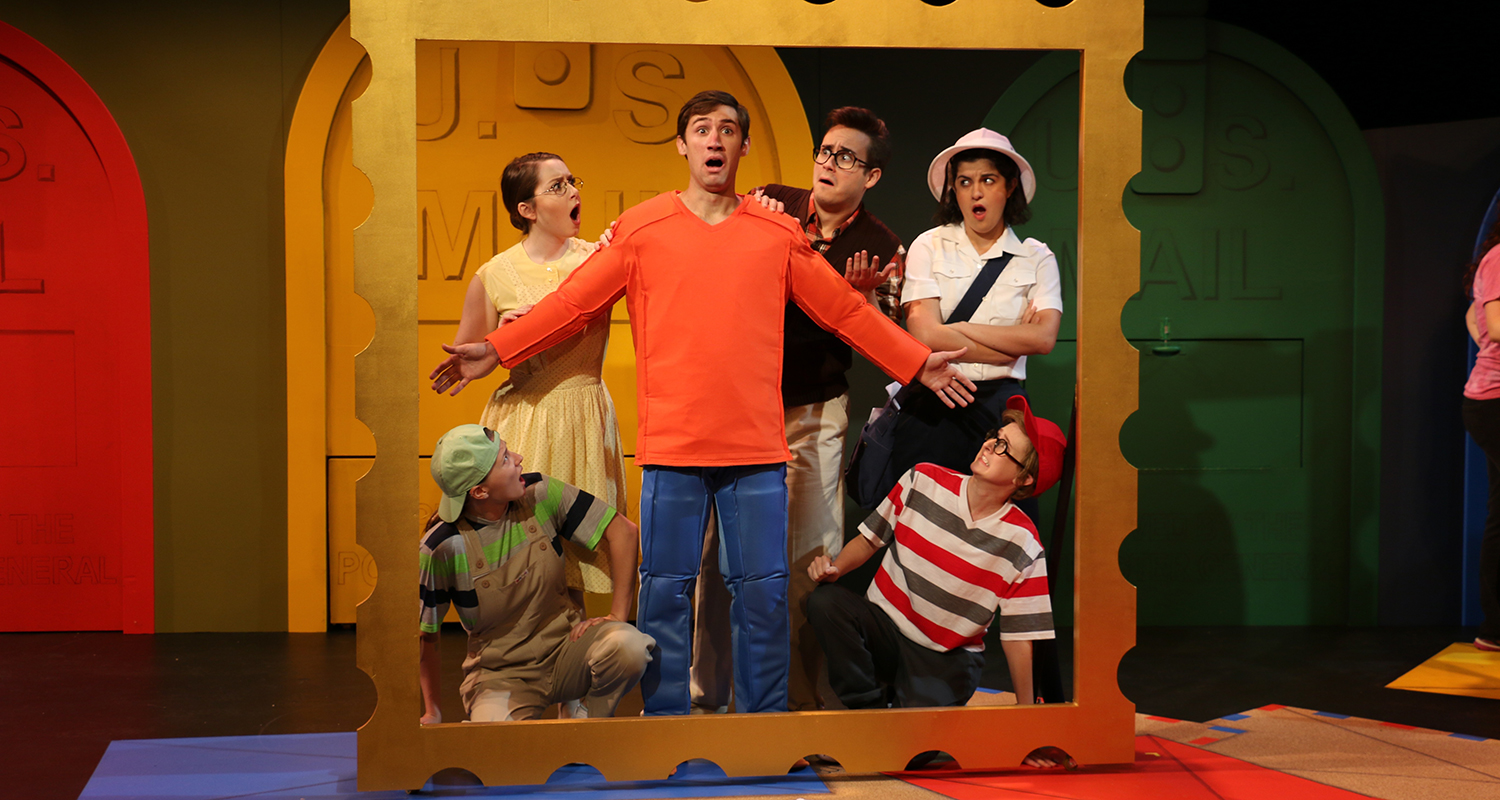 The Musical Adventures of Flat Stanley
The Musical Adventures of Flat Stanley
Based on the beloved Children's Book by Jeff Brown.
Adapted to the stage by Timothy Allen McDonald, Jonathan K. Walker, David Weinstein, Stephen Gabriel
Tickets starting at $8
Stanley Lambchop is your ordinary, everyday ten-year-old until the bulletin board on the wall above his bed comes loose and falls right on top of him. The next morning, Stanley wakes up flat. In a whirlwind musical travelogue, Stanley – the ultimate exchange student – scours the globe for a solution to his unusual problem. He's stamped, posted and cancelled from Hollywood and France to Honolulu and beyond, all in an effort to become a three-dimensional boy once more.
OCTOBER 21-22, 2016
1:30pm, 4:00pm, and 7:30pm Performances.
Samantha Alicandri (Mrs. Cartero, Bulletin Board, Hollywood Assistant 2, Mona Lisa, Go-Go Dancer/Surfer)
Samantha is so excited to be a Performance Apprentice at Riverside Theatre! She is a recent graduate of Western Carolina University where she received her BFA in Musical Theatre. Previous university credits include Macbeth/Trina (Macbeth is the New Black), Viva (Pop! Who Shot Andy Warhol) and Magenta (The Rocky Horror Show). Samantha has performed regionally at Haywood Arts Regional Theater, Highlands Playhouse and White Plains Performing Arts Center. She is so excited to see what this next year will bring!
Jewel Blakeslee (Doctor Dan, Hollywood Agent, Napoleon, Assistant Director, Go-Go Dancer/Surfer, Cool Kid)
Jewel is a recent graduate of Florida Southern College, with dual degrees in Theatre Performance and Technical Theatre. She is originally from Sebastian, Florida and is excited to be working so close to her home town this year as a Performance Apprentice! Some of her favorite roles include Maureen in RENT, Natalie in Next to Normal, and Florence in CHESS.
Brandon Kalusa (Stanley Lambchop)
Brandon is from Johns Creek, Georgia. He is super excited to spend the year at Riverside Theatre as a Performance Apprentice! He is a recent Musical Theatre graduate from The University of Alabama. Some of
his favorite past credits include Tartuffe (Damis), Bare:A Pop Opera (Matt Lloyd), Arabian Nights (Madman & Others), and Lend Me A Tenor (Bellhop). Roll Tide!
Chris Robertson (Mr. Lambchop, Sam, O'Jay D'Art, Herb Wavecrest)
Chris is a recent Jacksonville University graduate with a Bachelors of Fine Arts in Music Theater. He is excited to be joining the Riverside Performing Arts team as a Performance Apprentice. Chris also studied musical theater in high school at Douglas Anderson School of the Arts and in middle school at Lavilla School of the Arts. Some of his favorite past performances include Sweeney Todd, Next to Normal, Parade, Les Miserables and Into the Woods.
Mary Catherine Waltman (Mrs. Lambchop, Hollywood Assistant 1, Samantha, Sneak Thief, Bikini Wahini)
Mary is thrilled for this opportunity to work as a Riverside Theatre Performance Apprentice. A recent graduate in Musical Theatre from The University of Alabama, Mary Catherine's past credits include Ethel in 42nd Street, Actor 4 in The Dining Room, and Little Sally in Urinetown. Her senior year she also got the opportunity to play a principle role, Celine, in the newly workshopped musical, The Countess of Storyville, with director Mark Waldrop. She is so excited and thankful for the next year!
Molly Wiley (Arthur Lambchop)
Molly, raised in the Atlanta area, is an alumni of Brenau University (BA Theatre). Some of her past credits include: Oklahoma! (Kate/Laurey u/s), Grey Gardens (Big/Little Edie u/s), and 258: A Musical Drama (Nancy;
originated role). Molly could not be more thankful for the opportunities here at Riverside Theatre as well as for the people who have helped her to get where she is. She is excited to explore the world at her feet and looks
forward to going the distance!
CREATIVE TEAM
Director: Kevin Quillinan
Choreographer: Adam Schnell
Music Director: Ken Clifton
Scenic Designer: Emily Perry
Lighting Designer: Jason Stefanson
Costume Designer: Anna Hillbery
Sound Designer: Andrew Stroud
Stage Manager: Emma Hughes