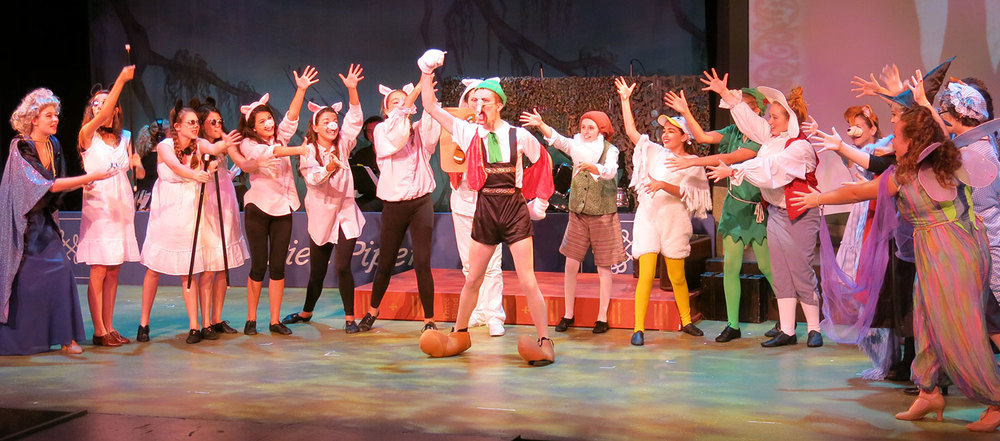 Making live theatre available for all audiences has always been a priority of Riverside Theatre. Throughout the year we offer Jr. Productions, Classes & Camps!
2019-2020 Productions
Children's Theatre show tickets go on sale 4-6 weeks prior to the event date. Select a show below to purchase single tickets.
UPCOMING RIVERSIDE THEATRE FOR KIDS PERFORMANCES:
October 3 – 5, 2019
Polkadots The Cool Kids Musical
A brand new musical celebrating the power of our differences, Polkadots: The Cool Kids Musical tells the story of 8-year-old Lily Polkadot who just moved to the "Squares Only" small town of Rockaway. As the first Polkadot in an all Square school, Lily faces an almost impossible task of gaining acceptance from her peers but soon learns that what makes us different makes us special.

All Tickets $10 (On the Stark Stage)
November 22 – 24, 2019
A Charlie Brown Christmas
A special mini showcase performed by Riverside Theatre Education Students.
Included with your admission to Festival of Trees
December 5 – 8, 2019
Frozen JR.
Based on the popular Disney film, Frozen JR. brings to the stage the story of love and acceptance between sisters. When faced with danger, Princesses Anna and Elsa discover their hidden potential and the powerful bond of sisterhood. All of the favorite songs from the movie are included, as well as new ones written for the Broadway adaptation!
All Tickets $10 (On the Stark Stage)
January 4, 2020 at 2:00pm & 5:00pm
Thoroughly Modern Millie JR.
Just as we did last year, we will rehearse the FULL show beginning August 20th, This full show will be performed once as a staged concert version with blocking and choreography as a benefit to raise money for Atlanta.
All Tickets $10 (On the Waxlax Stage)
May 28 – 30, 2020
BEATBUGS JV.
All Tickets $10 (On the Stark Stage)
UPCOMING STUDENT AUDITIONS
SCHOOL FIELD TRIPS TO RIVERSIDE THEATRE INFORMATION
TOURING SHOWS TO SCHOOLS INFORMATION
THEATRE CLASSES FOR KIDS INFORMATION
SUMMER CAMP PROGRAMS INFORMATION

Call 772-231-6990 for more information